Mega Man Confessions
Mar 12
I don't care what anyone says, my favorite Robot Master will always be Dust Man.
Feb 19
As a joke, I've frequently shipped the robot masters with vocaloids and UTAUlouds (Oddly enough, I've paired everyone except Miku).  I like Pharaohman/Lily, Cutman/Rin (BFFs), Heatman/Teto, Flashman/Miki, and Snakeman/Ruko (though Snake constantly questions if Ruko's male or female).  They're either romantic pairings, friends or just fans of the 'loids.
Jan 05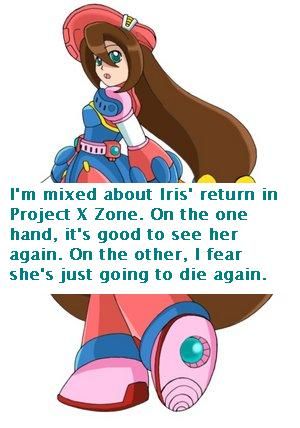 Jun 05
I really dislike how in a good amount of fanart of the Megaman Zero games, Ciel is left looking helpless and worry-some like every stereotypical female character before her. Ciel is an intelligent and a strong part of of the Resistance team and I really think she shouldn't be portrayed in such a way. 
Jun 02
Mega Dream
I had a dream last night, in which my headcannon of Solo's life up until Star Force 2 played out in its entirety. Best dream I've had yet.
May 29
I want so badly to roleplay Iris. I have a DW account, made icons, and even wrote up a character survey for her. 
…and yet, I'm not a Zero / Iris shipper. I'm an X / Iris shipper, and would love to play out (or even just write in fanfiction) that pairing so badly it almost physically hurts. 
Is that bad?
May 04
I think I'm going crazy
I recently started this headcanon that if the robot masters were human, Geminiman would be a handsome actor whose hair exactly resembles his helmet, and Snakeman is his lanky sleezy talent agent and boyfriend @0@
Apr 28
"Despite how much I miss everything about it, I can not bring myself to join another Mega Man RP group."

"It felt like when I left those I was part of people stopped talking to me, ignoring me, like I wasn't part of their group anymore. It was like I wasn't worth being their friend anymore. I have cried because of these thoughts. But I know it's just me not being very good with people."

"Even so, I will never join another RP group again, in fear I'll have to live through these feelings again."
Apr 14
So much love
I found the preview to issue number 16 of Archie comics' Mega Man about half an hour ago, which ended with the words "Break Man."
I'm still crying tears of joy as I write this submission. THANK YOU ARCHIE!!!
Mar 25
I secretly ship Megaman X and Zero together. But I'm a little scared my boyfriend might think I'm gross when he finds out about it, because he's a big fan of both series.